POLYETHYLENE PIPING SYSTEMS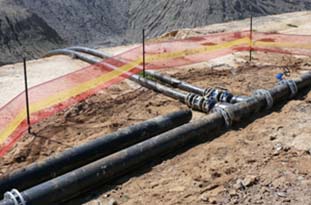 The manufacturer as over 30 years experience and specialise in the design & supply of Polyethylene piping systems. With strong backing form Australia's largest ISO 9002 poly pipe mills we have AS 4030 quality & reliable delivery & lead times on our side.
Combining the advantages of Polyethylene such as corrosion resistance, high impact strength & flexibility, chemical & abrasion resistant with our experienced design & ISO 11414 certified installation teams provides a winning solution for numerous water, slurry / tailings, plant air requirements.
We offer a wide variety of fittings & jointing systems including butt welding, electro-fusion, flanged, mechanical coupling and compression fittings.
PIPING INSTALLATION
Our Main Contractor with over 30 years experience is Highly specialised to organise – and install any type of on site installation of Polyethylene piping systems. They experienced ISO 11414 accredited Technicians are highly skilled in a variety of installation methods and applications. From Buried & Overland Water transfer and Tailings Lines, to Plant Air. No job is to big or to small for our team and our modern fleet of 40+ welding machines varying from 15mm – 1200mm in diameter.