MAXIFLO ™ - SHOULDERED LITE PIPE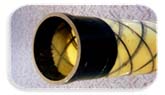 This revolutionary FRAS Composite piping product. Developed under license with the CSIRO using aerospace technology the Maxiflo Shouldered Lite pipe™ offers a winning combination by incorporating the existing Shouldered jointing system whilst combating corrosion & weight issues. Having DPI approval & certification under MDG3006 MTR8 the pipe is fit for purpose and use in underground applications.
At half the weight of conventional steel pipe the Maxiflo Shouldered Lite Pipe ™ offers both OH&S and installation advantages. The weight saving will contribute to a lower overall installation cost and improved environmental impact. Pipe trailers can be constructed to carry lighter loads whilst providing the same lineal meterage of pipe. The lighter weight will also enable the pipe to be installed with a lower risk of injury. Originally designed for Underground coal mining Air & Water reticulation, the product is also extremely suitable as a Stand Pipe in methane drainage and corrosive tunneling .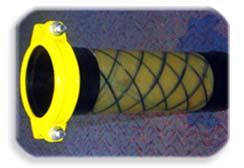 MAXIFLO SHOULDERED LITE PIPE ™
• Recommended Working Pressure 3000 KPa • Maximum Working Pressure 4800 KPa • Maximum Test Pressure 10000 KPa DIMENSIONS - TOLERANCES - PRESSURES • The Composite shouldered End provides an interference retaining fit for the Shouldered coupling system. The pipe ends are manufactured to the same dimensional spec's of the steel shouldered pipe system. • The tolerances detailed under Shouldered Dimensions, please refer to the below table. • The pipe ends should be measured with circumferential tape/vernier (or other effective averaging device) to obtain these figures.